FILE PHOTO. An illustrated picture shows euro notes stuck into a tank opening of a car © Patrick Pleul / Global Look Press
European Union foreign affairs chief Federica Mogherini says the EU signatories remain committed to the nuclear deal with Iran that the US has quit. The group is working to create special payment channels to do business with Iran.
Mogherini read from a statement following a ministerial meeting of the remaining signatories of the Joint Comprehensive Plan of Action (JCPOA) deal at the sidelines of the UN General Assembly. The statement by the five nations –Russia, the UK, Germany, China and France– confirms that Iran has been complying with its end of the agreement.
With that in mind, the EU is working to create the means to continue doing business with Iran legally, at a time when the US is looking to stifle Tehran's oil exports with sanctions, aiming ultimately to bring them down to zero.
Read more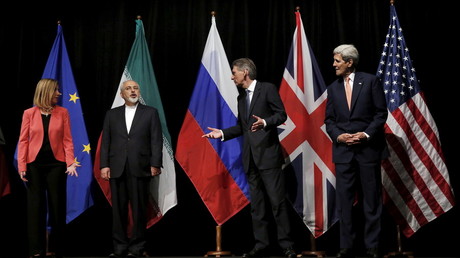 "Mindful of the urgency and the need for tangible results, the participants welcomed practical proposals to maintain and develop payment channels, notably the initiative to establish a special purpose vehicle to facilitate payments related to Iran's exports, including oil," Mogherini said.
The US exit from the Iran nuclear deal in May drove a wedge between the Trump administration and US allies over in Europe, who reaffirmed their commitment to the landmark agreement. After unilaterally breaking off from the multi-party deal, the US has been gradually reimposing sanctions that had been lifted under the agreement, in return for Tehran capping its nuclear program. The first round of sanctions kicked in in August, to be followed by a second and final round in November. Ahead of the November 4 deadline, the US has been pushing its allies to cut all business with Iran, threatening European companies with secondary sanctions. The heavy-handed approach has drawn sharp criticism from Brussels as well as France, Germany and the UK. In August, the European guarantors of the deal said they were working on "the preservation and maintenance of effective financial channels with Iran, and the continuation of Iran's export of oil and gas" despite potential repercussions.
Both Iranian President Hassan Rouhani and US President Donald Trump are set to address the UN General Assembly on Tuesday. Last year saw a heated exchange of insults between the two, with Trump branding the Iranian government "a corrupt dictatorship behind the false guise of democracy," and Rouhani referring to the Trump administration as "rogue newcomers."
https://www.rt.com/news/439269-eu-payment-iran-sanctions/
JUST NEWS published this article following the Creative Commons rule. If you don't want your article to appear in this blog email me and I will remove it asap.
Follow @counter_info